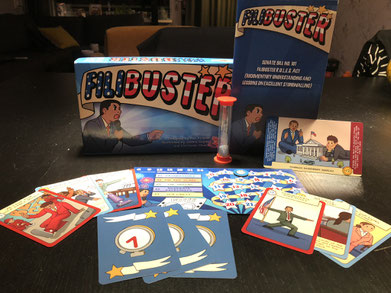 Filibuster is a semi-cooperative political party game! First we've had are thoughts if it really is a party game, but that's because we had some struggles with the political references. We don't live in the USA so it was a bit off a struggle for starting with the game. Our first play was also more then 45 minutes (this includes watching the tutorial video).

But when we played the game a couple of times we really had fun and we enjoyed playing this game. The game ends after 7 rounds or when there are 4 or more policies been blocked. The one with the most influence at the end of the game wins. The fun part of the game are the action cards, there are some great cards like follow your dream, demonstrate yoga poses or unleash your sick dance moves. When you start the game, there's one person that starts as the Senate Minority Leader, all other players are majority Senators. This changes during the game, so you all can get the opportunity the be the Senate Minority Leader.

The components in the game are really hilarious and some has wonderfull graphics that are related to politics but in a funny way. I think this is a great game for every boardgamer in the United States, but when you like politics this is definitley a fun party game you must own.

Rating (1-5): ⭐️⭐️⭐️
A game for 3 to 5 players.
Time to play: ⌚ 30-40 min