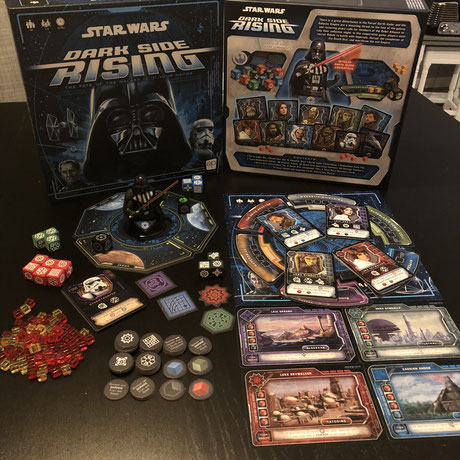 Game summary:

A game for 2-4 players
Play time around 45 - 60 Min
Designer: Patrick Marino, Andrew Wolf
Artist: N/A
Publisher: USAopoly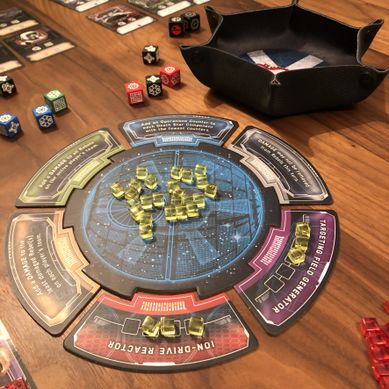 Unboxing
This box, got the following components in it:
1 Custom-sculpted Darth Vader
1 Deployment Zone Tile
4 Team Deployment Tokens
51 Asset Cards
4 Team Base/Summary Cards
15 Custom-sculpted Rebellion Dice
1 Darth Vader Die
1 Death Star Die
30 Alliance Tokens
60 Damage Counters
30 Death Star Operation Counters
1 Death Star Centerpiece Tile
6 Death Star Component Tiles
1 Rulebook
Let's get it to the table


Each player first chooses a Team Base Card with the starting Rebel and with the matching token. Then collect the starting dice, that you see on the base card.


When you're ready to play get the Death Star Centerpiece tile with the six Death Star Component Tiles  nested into the Death Star Centerpiece. Then you place the Death Star Operation Counters (yellow) nearby.


Place the Deployment Zone Tile with Darth Vader between all the players. Then decide if you want to play an 'easy ' game or more difficult game, the easy game got 7 Imperials. By increasing this number till 11, the more difficult the game will be. After choosing the amount of Imperials, you shuffle all the assets cards into a deck and place it near the Deployment zone. You can place the Damage Counters nearby the Deployment Zone.
When everything is ready, then you deal out 9 of the Asset Cards, 3 on each of the location.
Actions on a Player's turn
1.    Place Team Deployment Token.
2.    Roll and Resolve Death Star and Darth Vader Dice.
3.    Roll and Assign Rebellion Dice.
4.    Resolve Rebellion Dice and Conclude Turn.
1.    Place Team Deployment Token; The active player chooses where to deploy their team by placing their Token in one of the three sectors of the Deployment Zone. During their turn, the active player can only interact with the three face-up Assets Cards at this location and the Rebels on their team.
2.    Roll and Resolve the Dark Side Die (Death Star and Darth Vader). First roll the Death Star Die and make the Death Star fully operational. Place a Death Star Component Tiles matching the color of the die roll. If the Death Star component's completion track if filled, it cannot receive any more counters. At the end of the turn it will be turned over and become operational.

Next roll and resolve the Death Star Die which represents his actions and movement between the location. Two faces of the die rotate Darth Vader to the left, two faces of the die rotate Darth Vader to the right. One of the sides has a Dart Vader's Helmet another side has the Death Star Die.

Darth Vader's Helmet; Darth Vader activates the abilities of all Imperials NOT only at his current sector. First activate the Imperials in the current location and then clockwise in the other sectors.

Death Star Die; re-roll the Death Star Die and again assign an Operation Counters to the Death Star Component Tiles.
3.    Roll and Assign Rebellion Dice, the active player collects and roll their Rebellion Dice pool. That's the four dice that are shown on the Base card and all the dice that are shown on the Rebel abilities and / or Alliance Tokens.


      When you roll the dice, you can combine the symbols that are shown on the Rebel or on the Imperial cards. You can combine the symbols with each other to either recruit the Rebel to your team or to attack an Imperial.
The active player roll the Dice and assign at least one die to a Rebel or to an Imperial. If you cannot assign a die, you must  select a die and unassigned it from the dice pool.

There are 4 different symbols (traits); Tactical, Intelligence, Support and Leadership. Each color die is strong in one of the traits, some of them include a double symbol (counts as 2 of that symbol).
5.    Resolve Rebellion Dice and Conclude Turn
If you got all the dice that are shown on the Asset card, you can recruit the Rebel or add a Damage Counter to an Imperial.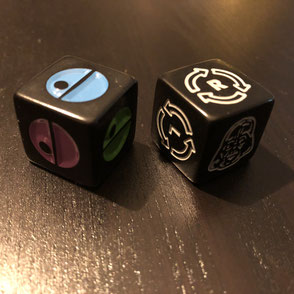 The Dark Side Die, on the left you see the
Death Star and  on the right the Darth Vader.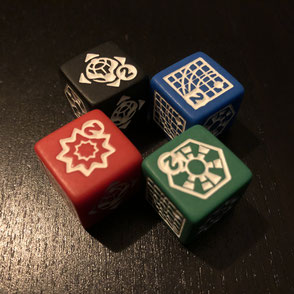 The 4 different type of dice, each of them also got a symbol that counds for 2 symbols. 

Game ends
There's only one way to win and that's to defeat at least 7 Imperials, when you've played it more often you can increase this number to defeat more Imperials. But you have to agree this before you start playing.

You're defeated when:
- When the Dead Stare is completed and when all the components are turned over
- When there are 10 or more Rebels defeated
- If anyone player has all of his Rebels are defeated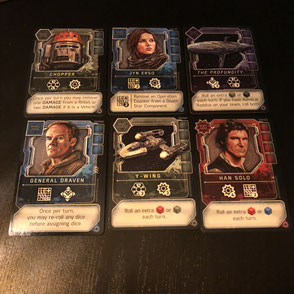 6 examples of Rebel Cards, below the picture of this
Rebel you see what type of combinations you need to 
recruit this Rebel. Below you see the ability of this Rebel.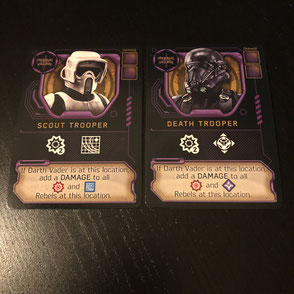 2 examples of Imperial cards, on the left a Scout Trooper that can be destroyed by 2 damage counters and on the right a Death Trooper that can also be destroyed by  2 damage counters. On the bottom you see what type of combinations you need to put a damage counter on this Imperial card.
You also see an ability what kind of action this Imperial card does when Darth Vader is on this location.
Final Conclusion & rating:
Weight: 2/ 5
My rating: 🎲🎲🎲🎲🎲🎲🎲🎲
Weight: 2/ 5
My rating: 8 out of 10 dices

It is a very nice game but certainly a difficult game. The challenge is really to strengthen your own base team as quickly as possible by recruiting Rebels. But also as soon as there is a Imperial card on the table, to beat it as quickly as possible. we have won just once in a while, but losing is also a possibility. Before you know it, the Death Star is complete and you have lost.
For example in our first game, we've defeated in the beginning 5 Imperials but then it took a while before the next Imperial popped up on the table so Dark Vader had enough time to destroy a lot of our Rebels. But just in time 2 Imperials were placed on the table and we nearly defeated them and won our first game. It's really a game that you can play often because you can choose a new Base team but also you can choose your own Rebels for in your team and sometimes you can make it a bit harder by choosing for the stronger Rebels which can be tricky if you don't have enough dice.
This game is only available in European, Middle Eastern and African (EMEA) countries.
What I really like?
- Very great quality of the components
- nice artwork, you can also combine the different Star Wars Rebels
- very interesting gameplay

What could be better?
I found it very difficult to say something that could be better, but if I had to name 2 points for improvement, then it would be:
- I would prefer a better inlay for the components
- More Imperials so you can also make it more difficult by choosing for stronger Rebels instead of just more Rebels.
I want to thank Ross Thompson from The OP Games Usaopoly for letting me review this game! Take a look at their website for more awesome games!