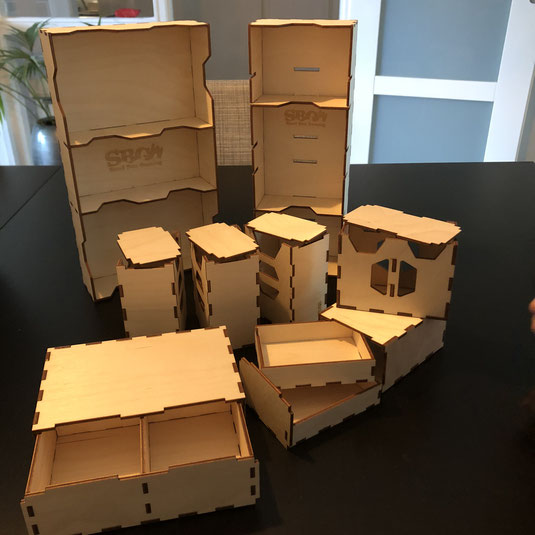 My review from Sand Box Gaming with their Modular Storage Solutions.

First I want to introduce you to the company itself;
At Sand Box Gaming, we set out to help fill a need in the ever-growing world of tabletop and board gaming - protecting the things we love to play. 
Before designing our modular inserts, most of our game piece storage included zip lock bags and rubber bands. While trying to find proper inserts, we kept coming across the same issue: every insert is specifically made for only a few dozen games. But what about all the rest? Using our collective levels of expertise both in and out of the hobby, as well as our passion for gaming, we have designed a truly unique product that fills that gap.
Board gaming has always been an amazing way to sit around a table and create memories with friends, and we want to help everyone continue to create those memories for years to come.

More information on https://www.mysandboxgaming.com/
My Conclusion & rating:
Quality: The quality is very great, it's made of Birch Plywood and it very sturdy. You have yo use wood glue when you are assembling them. Make sure that everything is dry before you store you cards or components in it! What's also cool, you will also see their logo engraved on it. When everything has been assebled together is very study and it will not fall apart.

Instructions: They've added instructions and with those instructions it's very easy to assemble them, I think about 5 till 10 minutes per box and that depands on the size of the box. They've used pictures and it so simple that everyone can glue it together.

How to use it: You can use it for almost every game, I have tried it with about 30 different games. You really see at that moment that it is universal. What I find useful of these boxes is that if you end up using a game less often, you can use the boxes again for another game. Instead of other boxes where you buy them for that particular game. Before you're going to buy it, you have to make sure for what game your going to buy it, so you know what you really need. The boxes are also made for cards that are sleeved, I sleeve almost every game that I play a lot and it's really a requirement for me that boxes like these are made for sleeved cards.
My rating: 9 out of 10 dice
I really want to say a big thank you to Sand Box Gaming for letting me review these boxes and let me use them for my games. If you're interested after seeing my review and pictures then go to their website and order a couple of these boxes.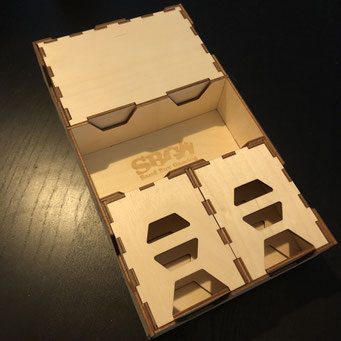 Sand Box
this Sand Box is really great to store components in to keep everything together for example bigger cards, first player tokens etc. You can also store 2 Single Card Inserts together and also a Double Drawer. I hear you thinking why do you store it in this Sand Box? in most games you also have small player boards and you can place them beside this Sand Box so everything can fit in it.
---
How to use in into a box?
Here you see an example of how to use it in a box. This is The Artemis Project, I really didn't like the old insert and everytime I had no idea how to fit everything back in the box. But with the modular boxes from Sand Box Gaming it really fits perfect, everytime I get this game on the table it's really a lot of fun to get everything out of the box and start playing. In this game you can also play solo, you can store everything separately in the box but quickly grab it depending on who you are playing with.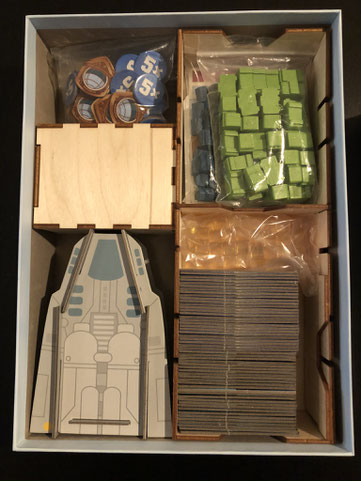 ---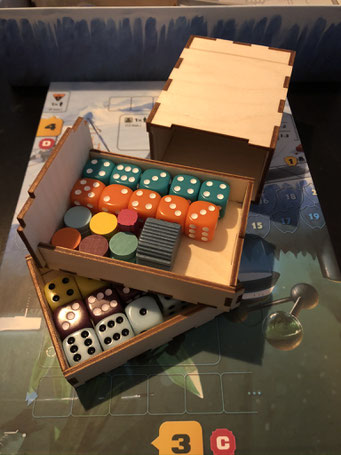 Single Split Drawer
This Single Split Drawer is really awesome! Yeah I've stored all the dice and some other components in this drawer and it really fits great. You can also see how great it fits in the big game box. Besides that, you can get quickly the right color of dice you want to play with. 
How to use in into a box?
Here you see another example of how to use it in a box. This is Robin Hood and the merry Men, if you ever played it you know how many items you got to get to the table. So when I was trying these boxes with a couple of my games, I thought this would be perfect if I can use it for Robin Hood. And yes it did! Below you see some pictures how everything fits into the box. I used the 2 Single Card Inserts for all the cards and the Double Drawers for the money, all the dice and some small card components. 
---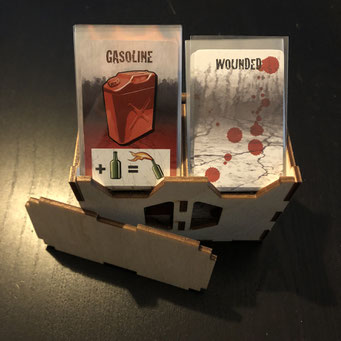 Single Mini Card Insert
I used this Single Mini Card Insert for my cards for Zombicide, it was really a mess everytime I wanted to play this game and now I can easily get them out of the box and start playing quickly. Yeah I have to search for the Zombies but I've stored them into something else (really don't want to say it, but they are seperated in different small bags ;-) )
Below you'll see the boxes without any components in it. As I described with the examples above, you'll see that you can use them for a lot!
---
Assembling
Below you'll see some pictures when I'm assembling a Single Card Insert and a Sand Bar. Just follow the simple instructions, like you'll see on the instruction manual and with some wood glue they fit perfectly.