The Company
I've received a Designer Pack from LongPack Games. LongPack Games is a board and card game manufacturer owned by LongPack Co., Ltd., a printing and packaging company located in Shanghai, China. They have over 10 years of experience in the printing and packaging field. With their deep level of expertise and specialized in-house printing and assembly factories, they have provided packaging solutions to over 500 different companies from all across the world.
LongPack games has worked with a wide array of companies and projects. A couple of some very well-known games that they've been working on;
- Everdell
- Raiders of the North Sea
- The Grimm Forest
- Teotihuacan: City of Gods
- Pipeline
- Posthuman Saga
- Robinson Crusoe
- Grand Austria Hotel
- Kingdomino
LongPack Games can also offers a wide range of services, from consultation, artwork checking, 3D modeling to shipping and fulfillment. If you're in the need of components, they can also help you to produce wooden, plastic and metal components, as well as custom dices and miniatures.
You can also find more information on BoardgameGeek about LongPack Games and the Designer Pack.
Summary:
This designer pack contains some of their high quality components
- 2 miniatures
- Playing cards
- 5 Tokens
- 1 Key Chain
- 1 Metal coin
- 1 Wooden Puppet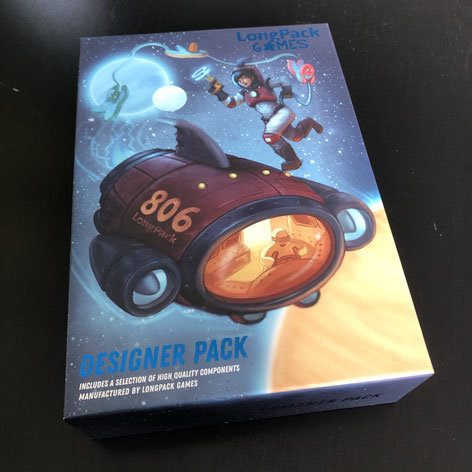 Let's get it to the table
Let's go and see what kind of nice and beautiful parts are in this box. Considering the games they have worked on, I have very high expectations of them.
First of all, let's look at the box of the designer package. This looks very nice in terms of graphics alone, but if you open the box you get to see even more cool graphics in which some kind of spaceship is going to land on a planet. There are also all kinds of small boxes in it, 4 of them small and 1 slightly larger. What is really cool is that each box opens in a different way. With this, they immediately show what possibilities there are at LongPack Games.
---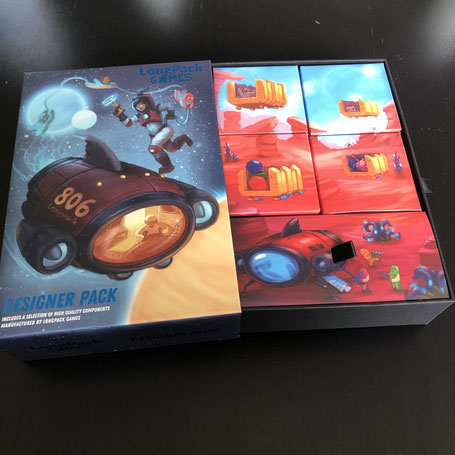 The designer box on the right you see the tiny boxes with all the different components in it. Isn't the design awesome or awesome?
---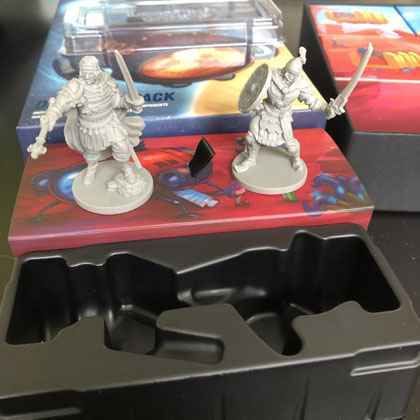 Let us first start with the big box;
It contains 2 miniatures of the game Dark Ages, they look very nice and detailed. Besides that, they also feel very solid in terms of quality.
Here are some specs of both miniatures;
Miniature - El Cid
Dimension: 30*44*55.7 mm
Material: PVC
Printing: Pantone Cool Gray 7C
Miniature - John I Tzimiskes
Dimension: 38.1*44.7*57.6 mm
Material: PVC
Printing: Pantone Cool Gray 7C
---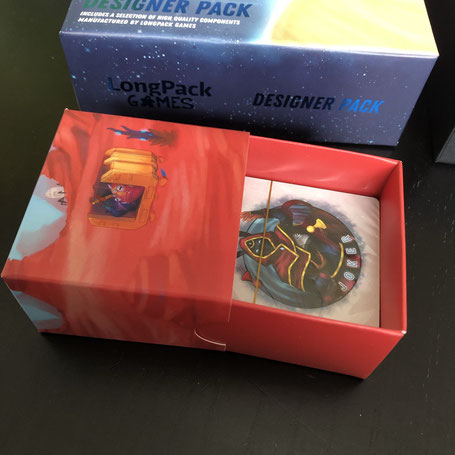 In the small box number 1 there are cards, these are not cards of a game but an example of the possibilities. These also look good, of course a bit small because of the sizes (57 mm) but that should not spoil the fun, in this case it is mainly about the possibilities.
Specs:
Dimension: 57*57 mm
Material: 350g art paper
Printing: 4/4C
Finishing: Varnish(10468), Woven-design Linen, Die-cut, Shrink wrap
---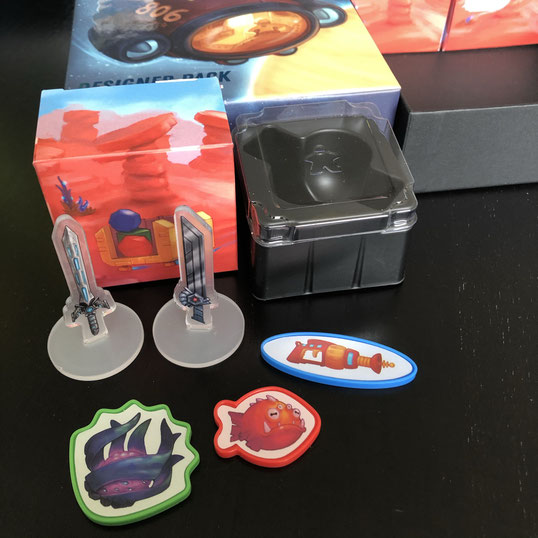 In the small box number 2 there are a number of tokens, namely 5 different tokens! All in that small box? Yes that's absolutely right, namely 2 different swords with corresponding bases and 3 other tokens in the colours green, red and blue.
Specs:
Sword Token
Dimension: 57*20*4 mm
Material: PP 2.5g
Printing: Blue 285C
Finishing: Self-adhesive sticker on both sides
Fish token
Dimension: 36*28*4 mm
Material: PP 2g
Printing: Red 185C
Finishing: Self-adhesive sticker on both sides
Plant Token
Dimension: 42*44*4 mm
Material: PP 3.4g
Printing: Green 2422C
Finishing: Self-adhesive sticker on both sides
Standing Token (Sword) with round shape base
Dimension: 21*61 mm + 19*62 mm
Material: Acrylic
Finishing: 4/0C
---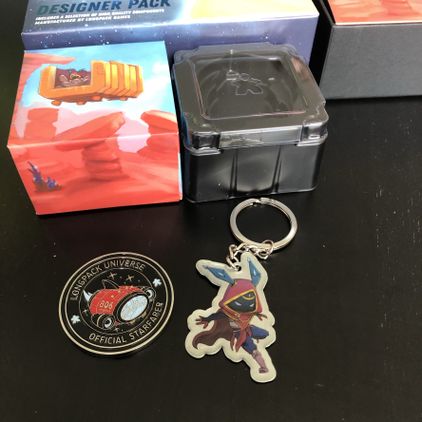 The small box number 3 contains a key chain and a metal coin, the metal coin has an image of the designer pack and is a special coin of LongPack. The key chain has a nice image which you can also see on the packaging of the designer pack.
Specs:
Key Chain
Dimension: 35.5*53.5*1 mm
Material: Stainless Iron
Printing: 4/4C
Metal Coins
Dimension: D44.7*6.7 mm
Material: Zinc alloy, bright nickel plating, baking varnish with non-drop glue 
Printing: 4/4C
Finishing: Engrave on both sides
---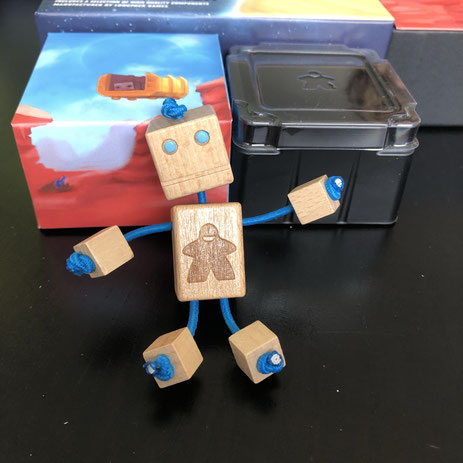 In the last box, we find something really cool! It contains a wooden puppet, which was an instant favourite of mine and my son. Also because there is a meeple on it ;-).
Specs:
Material: Solid wood
Printing: Natural colour painting + eye colour (331C)
Finishing: Connection with blue elastic rope
Overall impression:
The components and examples of the possibility are really great! But besides that, the artwork is also very nice and nicely done. Everything that is in the box fits together very well and they definitely show the possibilities of what is possible at LongPack Games.
I must say that I am very enthusiastic and surprised by this Designer Pack, I actually expected some examples but not that so much attention would be given to examples. If you're interested in all of their work and what they can do for you and your company, then take a look at their website. I really want to thank LongPack Games for sending me this Designer Pack of 2021.